Aurorasound English
| | | |
| --- | --- | --- |
| 300B-PP Monaural Power Amplifier | Solidsatte Control-Amplifier | LCR Phono Stage Amplifier, LCR type |
| | | |
| --- | --- | --- |
| Vaccume Tube Integarted Amplifier | | NF+CR Phono stage amplifier |
EQ-100

Adaptive Multi-curve Phono Equalizer AMP

Balanced drive Headphone amplifier

MC Step-up transformer
| | | | |
| --- | --- | --- | --- |
| MM Expander | RIAA Converter | | |

This RIAA Converter (AFE-11) converts an output signal of CD player or DA converter to RIAA recording curve of vinyl disks. AFE-11 output signal is equal to MM cartridge signal, so external phono stage amplifier will reproduces it to original flat signal.

AFE-11 deletes digital noise and unnecessary high frequency noise of CD or DA converter signal. And external phono stage amplifier will make sound characters, then digital audio sound will changed to analog taste sound. AFE-11 has very low noise and super low distortion design, so no sound degradation.

Why this kind of useless and meaningless process is needed ? Additional process must make sound worse, doesn't it ? Yes, it is not wrong. But we are listening MUSIC by audio system. AFE-11 never make music worse. AFE-11 draws a core of music and reveals an essence of recoding materials. I recommend AFE-11 for those people who love analog disk and quit to listen digital audio source. You would enjoy your CD library by your phono stage amplifier with AFE-11 again. People who are tired of improvement only trend, I recommend to try AFE-11 and discover another joy of audio.

To compare direct CD sound and AFE-11 sound, AFE-11 equips parallel output terminals. Please use high quality phono stage amplifier. AFE-11 is also useful to evaluate DIY phono amp and check RIAA equalizing performance without special measurement tools.

接続図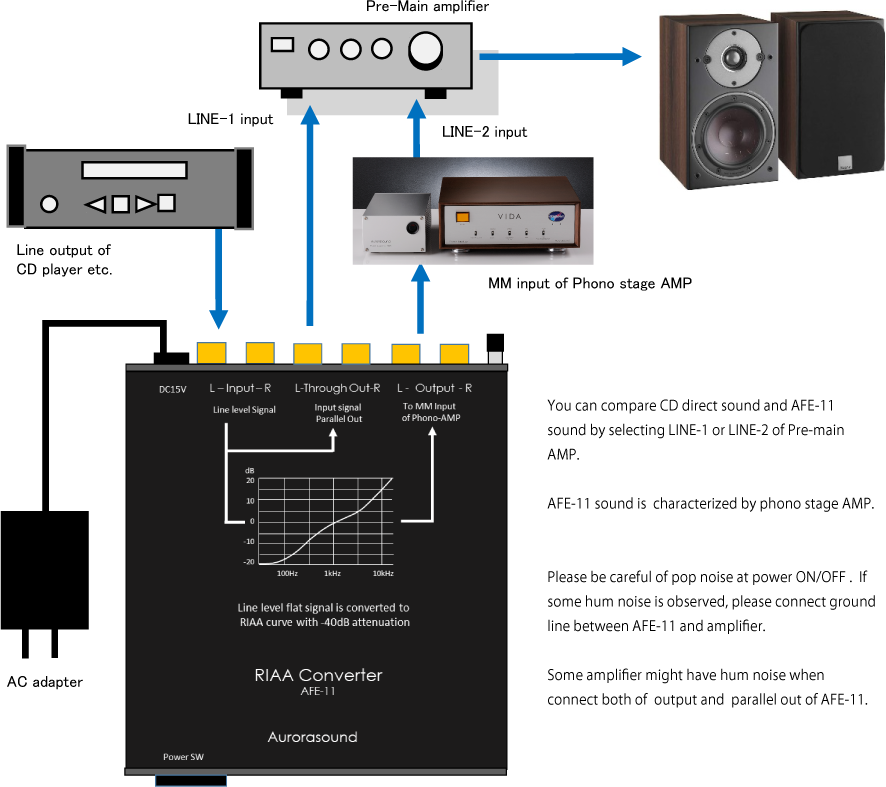 Switching type AC adapter is bundled. AFE-11 internal regulator filter can eliminate residential high frequency noise of AC adapter.
Yellow line : AFE-11 internal regulator filter, clean DC voltage
Green line : residential noise of AC adapter.
| | |
| --- | --- |
| Specifications | |
| Input | RCA jack, Line level signal max 4.4Vrms |
| Output | RCA jack, MM cartridge level |
| Through output | RCA jack, By-pass signal of input |
| Input impedance | 47kΩ |
| Output impedance | 47Ω |
| RIAA deviation | +/-3dB   10 ~ 30kHz |
| Gain | -40dB |
| THD +noise | 0.004%  @1kHz |
| Operation temp. | -10°C ~50°C |
| Size | W111 x D 120 xH35mm |
| Weight | 385g main unit |
| Bundle | AC adapter  (AC100-240V, DC15V) Operation manual+ Warranty |