Aurorasound English
| | | |
| --- | --- | --- |
| 300B-PP Monaural Power Amplifier | Solidsatte Control-Amplifier | LCR Phono Stage Amplifier, LCR type |
| | | |
| --- | --- | --- |
| Vaccume Tube Integarted Amplifier | | NF+CR Phono stage amplifier |
EQ-100

Adaptive Multi-curve Phono Equalizer AMP

Balanced drive Headphone amplifier

MC Step-up transformer
| | | | |
| --- | --- | --- | --- |
| MM Expander | RIAA Converter | | |
Direct Heating Triode tube, 300B push-pull
Inter-stage transformer drive
Discrete transistor front-end, Hybrid construction

Key features

1. Output stage, 300B Push-Pull. 28W

 @8ohm, THDN 2%


2. Front-end, made in Japan discrete transistors.

3. Hybrid construction combined by inter-stage transformer.

4. No negative feedback loop in total signal path.

5. Full balance signal structure.

6. Lundahl output transformer.

7. Solid rosewood body with oil finish.

8. Large size EI core power transformer and very low noise high stability independent power supply section for front-end and output stage.

9.Tube option PSVANE WE-300B

  TAKATSUKI TA, Western Electric

.
PADA-300BBlock Diagram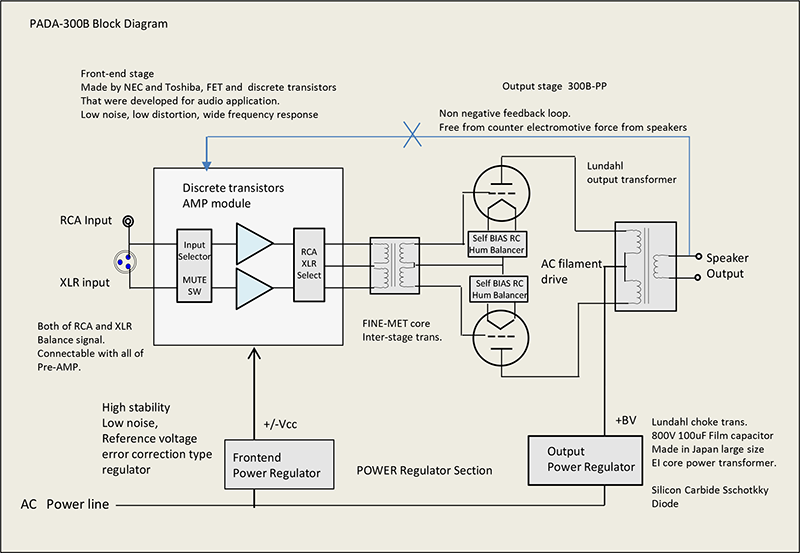 PADA-300B Top View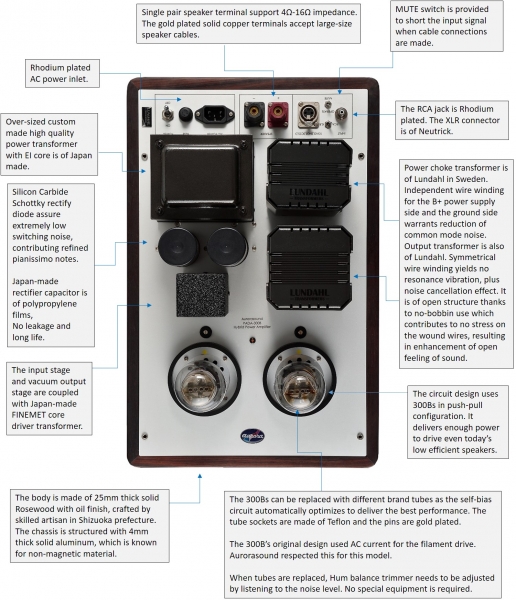 PADA-300B Close Up
| | |
| --- | --- |
| | |
| Bonnet cover (bundled)   Two units for Stereo | Solid Rose Wood with oil finish |
| | |
| --- | --- |
| | |
| Rear side | Side view |

Inside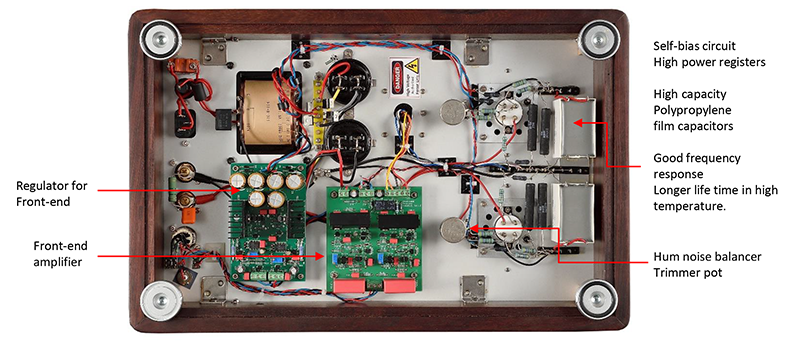 PADA-300B Explanation
Design Philosophy
Conventional hybrid power amplifiers are constructed using vacuum tubes in the front-end and transistors for the output stage, the transistors doing the power amplification with the tubes just adding a flavor of the classic tube sound.
However, the PADA-300B is designed in the opposite way – the transistors in the front-end and the tubes for the output. The PADA-300B design leverages the transistors to achieve low distortion, high SNR and wide frequency range, and then utilizes an inter-stage transformer to drive the output tubes. The inter-stage transformer matches the signal level and supplies the voltage difference between the transistors and tubes. This construction makes optimum use of both the advantages of transistor performance as well as the warm tube sound.
Noise Prevention and Control
Thanks to the excellent linearity of the 300B tubes and Lundahl transformers the PADA amplifier has no negative feedback loop. The tube filament is driven by AC voltage. In many of today's conventional amplifiers, DC filaments driven by high-current diode devices is used because of its low cost, which often results in low hum noises. DC-driven filaments have other disadvantages, such as unevenness of electron emission in the filament wire due to its resistance factor, which can damage tubes in long term use. PADA-300B AC drive technique cancels hum noise thanks to its push-pull design and simple center adjustment by its pod trimmer. AC is by far the best method for achieving optimum performance from 300B tubes.
Self-Biasing
The PADA-300B employs self-bias methodology for operating the tubes, providing long-term stability. The user can change to different brands of 300B tubes by simply plugging them in - no need to re-adjust bias current with a monitoring meter. Self-biasing circuits usually use electrolytic capacitors due to need of large capacitance and small footprints. The PADA-300B, however, uses highly reliable precision polypropylene film capacitors, taking advantage of their superior high frequency response and longer lifetime in high temperatures.
Front End Circuitry
The PADA-300B's frond-end circuit utilizes NEC and Toshiba Japanese transistors that were developed especially for audio applications from 1970-1980, the golden age of analog audio. Those transistors have been discontinued due to lack of demand in the digital era, but have excellent audio performance compared to the current chip-sized transistors. Aurorasound has a large quantity of new-old-stock of those Japanese transistors and utilizes them in all Aurorasound products.
Power Supply
The PADA-300B's power supply section has independent regulators for both the front-end and output stage. The front-end regulator Is the same high quality regulator as the Aurorasound VIDA's, which ensures stability and low noise. The output stage regulator uses super-low-noise silicon carbide Schtokky diodes with large size film capacitors instead of common electrolytic capacitors, once again taking advantage of their superior high frequency response and longer lifetime in high temperatures as in the self-biasing components.
Output Stage
In general, when music plays in fortissimo (very loud) or sequential percussive phrases, common output stages consume a large amount of current power, causing the front-end to suffer. However, PADA-300B system of independent regulators prevents this from happening, managing dynamics extremely well.
Chassis
The chassis consists of 25mm thick solid oiled Rosewood, hand made by a woodworking artisan in Japan's Shizuoka prefecture, home of Mount Fuji. This rosewood is used for finger boards and sides of acoustic guitars, in which it provides a very robust foundation to support the guitar top board and strings. The effect of the rosewood on the PADA-300B's is the same as that of the guitar construction. The top of the PADA-300B is made of 4mm thick solid aluminum, a completely anti-magnetic material.
TUBE option
Standard version employes PSVANE WE-300B. TAKATSUKI TA-300B option is avairable. Please contact your local dealers
Easy to change、no need to re-adjust tube bias current, because of Self-Bias system.
How to adjust the HUM BALANCER by yourself. It is very easy, Please check this YouTube
https://www.youtube.com/watch?v=G3XrhxD2vw0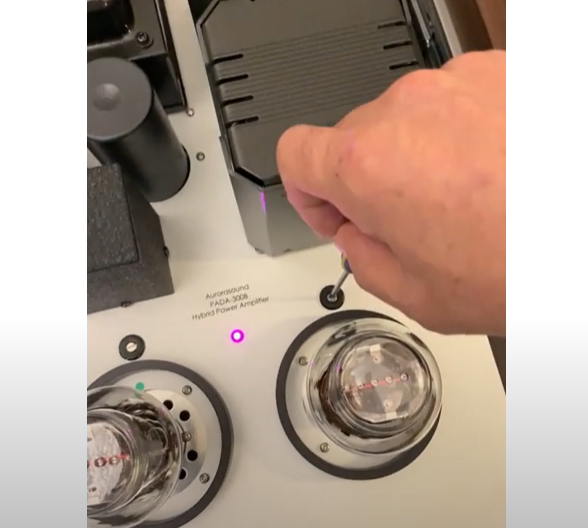 PADA-300B Specifications
[Specifications]
Input
RCA or XLR balance
Input impedance 56kΩ (RCA/XLR)
Output power
28W at 8Ω load THDN 2%. Speaker impedance 4ohm to 16ohm
Signal sensitivity
400mV/RCA, 800mV/XLR, max power
Frequency response
20Hz – 45kH, +0db/-3dB
THD+N
0.08%  A-weighted
Residential noise
0.09mV or less. A-weighted
Functions
RCA/XLR input selector, MUTE Switch
Vacuum tubes
PSVANE WE-300B , OptionTAKATSUKI TA-300B
Size
W310 xD480 xH248mm with bonnet cover
Weight
19.8kg
AC power supply
AC115V or AC230V
Power consumption
180W
PADA-300B product review and listening impression (click here)