Aurorasound English
| | | |
| --- | --- | --- |
| 300B-PP Monaural Power Amplifier | Solidsatte Control-Amplifier | LCR Phono Stage Amplifier, LCR type |
| | | |
| --- | --- | --- |
| Vaccume Tube Integarted Amplifier | | NF+CR Phono stage amplifier |
EQ-100

Adaptive Multi-curve Phono Equalizer AMP

Balanced drive Headphone amplifier

MC Step-up transformer
| | | | |
| --- | --- | --- | --- |
| MM Expander | RIAA Converter | MC Step Up Transformer | |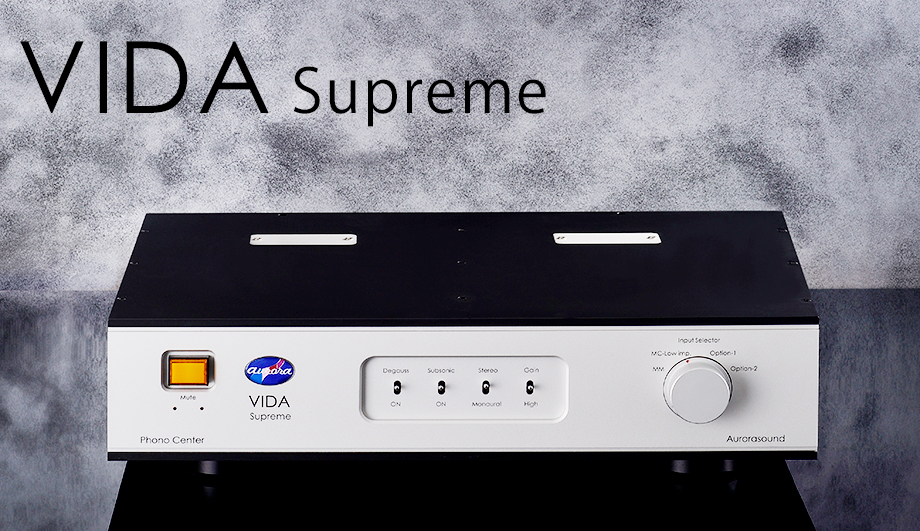 1. Features
LCR type Phono Stage Amplifier
Good resolution and low distortion in low frequency range, rich and massive middle, stable and delicate High.
Useful functions for modern analog audio play back.
Large size MUTE switch, Gain select, Stereo./Mono, Subsonic filter, Cartridge Degauss.
Complete L/R independent design and construction for very good channel separation and 3D sound stage.
Plug-In modules for matching with various kind of cartridges.
[Standard Equipped] : MM and MC low impedance under 14ohm, RCA and XLR balanced input
[Option] : Two slots
Developed new amplifier module using made in Japan discrete transistors and FETs.
High gain, low distortion, low noise, high drivability
Special customized RIAA filter choke transformer , Lundahl(same with VIDA)
Made in Japan audio grade oxide film registers, 1% error rate.
Made in Japan audio grade Electrolytic capacitors, very stable and long life.
High quality Polypropylene film capacitors, made in Germany.
Use made in Japan high reliability relay switch for all signal path switching.
Shaving solid RCA jacks with rhodium plating. Neutrk made XLR connectors.
Very ridged and heavy , all solid aluminum chassis to firmly supporting circuit boards.
Carbone compositional foot insulators.
External Power Supply Unit for eliminating noise influence of power transformer.
Large size, large capacity Medical grade Troidal Transformer, L/R independent.
New design power cable, Coaxial inverse winding OFC, Better sound resolution and clarity.
2. Front and Back panels
All solid aluminum chassis, very ridged and robust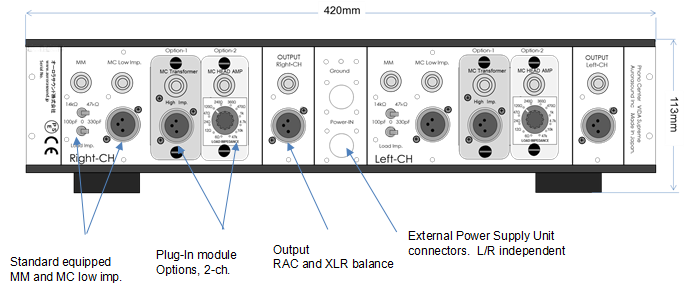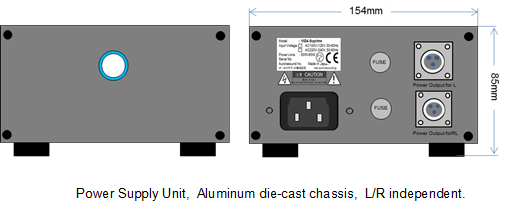 3. Option modules, plugin cards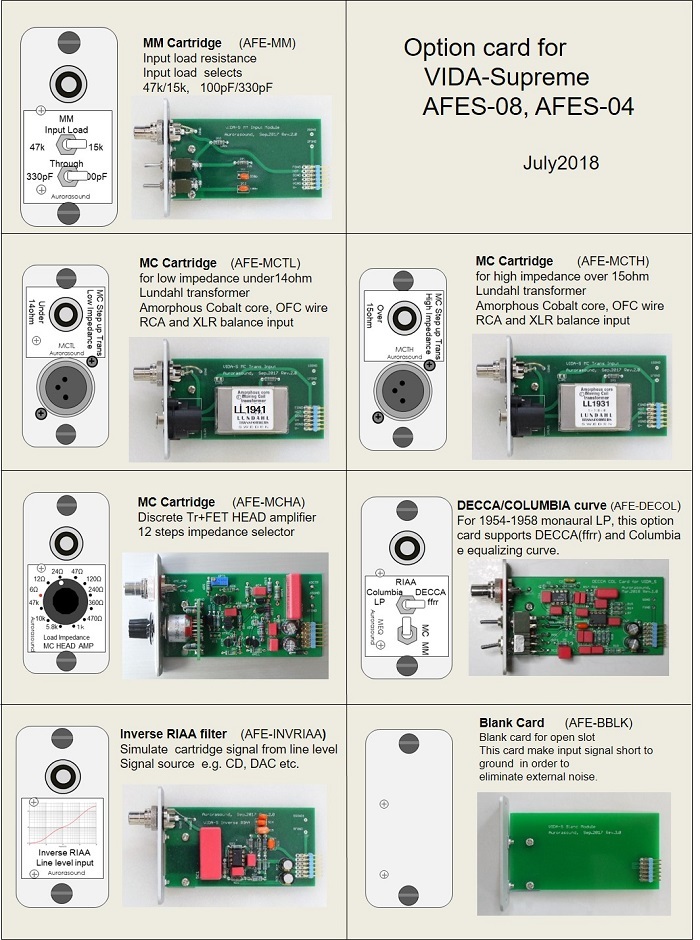 4. Pictures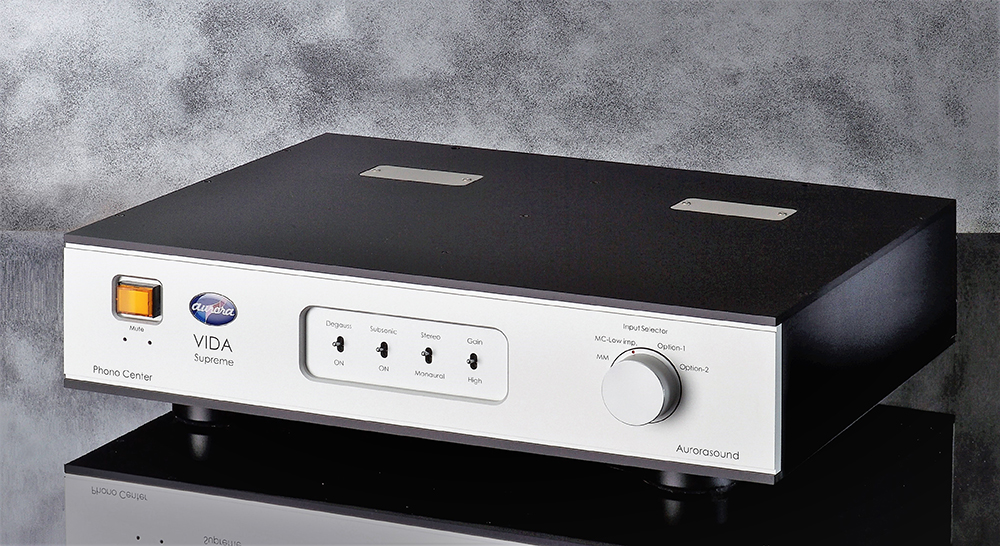 Back panel , standard version, MM and MC input. no option module

Back panel with two options module equipped.

5. Block Diagram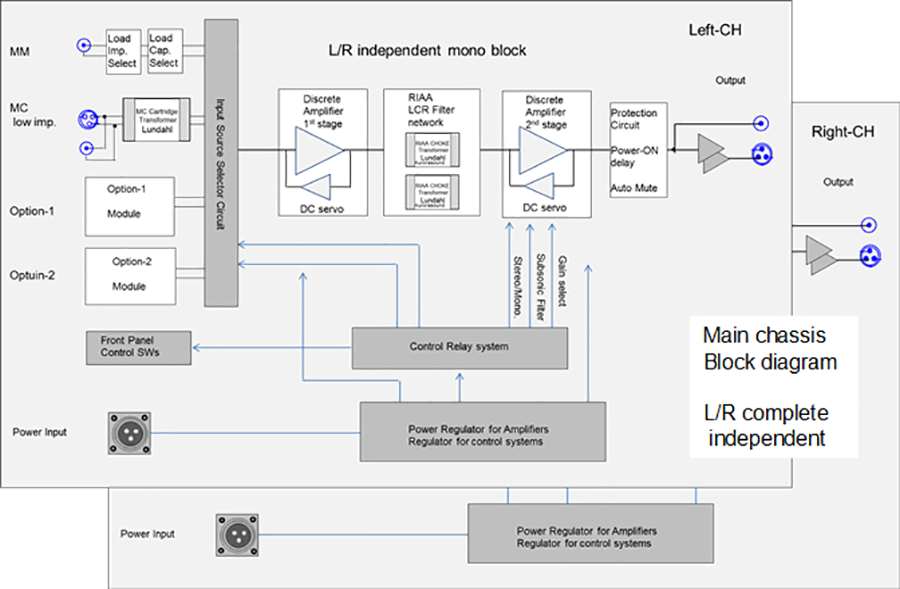 6. Specifications
Input
MM, Gain 40dB, Load Impedance select 47kΩ/14kΩ 100pF/0/330pF
MC, Gain 62.5dB, For cartridge Impedance under 14Ω
Plug-In option 2 slots
Output
Line level signal, RCA un-balance and XLR Balance (1/GND, 2/Hot, 3/Cold)
Output Impedance
RCA 47Ω,XLR Balance 47Ω
RIAA deviation
10Hz -20kHz +/- 0.25dB
Input Noise
MC 144dBV, MM 126dBV
THD+N
MC 0.008%, MM 0.008%
Functions
Gain select +8db at High position
Subsonic Filter -12dB/oct. 20Hz
Cartridge Degauss, Passive type
Stereo/Monaural mixing L/R signals and canceling vertical vibration..
MUTE Useful muting at cartridge up/down
Auto-Muting, In the case of big hot plug noise or external shock noise, Automatic
muting will enable in order to protect Speakers and Amplifiers.
Size
Main unit W420 x D350 xH106mm
PSU W270 xD154 xH85mm
Weight
Main unit体 9.2kg
PSU 3.2kg
Power consumption
AC120V for USA, AV220V~ AC240V Asia and Europe, 50/60Hz 60W
PSU cable
95cm x2 units
7. Inside and other pictures
Internal picture, L/R complete independent
Customize RIAA choke transformer
with Aurorasound logo

Check window on top cover
for option plug-in module

External Power Supply Unit

L/R independent
Large capacity Medical grade Troidal Transformers
New Power Cables, L/R independent
Coaxial and revers winding OFC with ribbon shield.
8. FAQ about VIDA Supreme
1.What is LCR type equalizer? Why is this good?

LCR is stand for L=Inductor(transformer), C=Capacitor, R=registor. Three component consist a RIAA filter network to make equalizing the RIAA curve signal to flat, that is recorded on vinyl disk. Most of all phono stage amplifiers in the market use C and R only, not use L. Because L is very expensive parts and L is not easy to keep same value of inductance factor in mass production. Aurorasound requested Lundahl , Swedish famous professional audio transformer manufacturer, to develop special L to keep high quality and reliability to satisfy phono stage technical requirement. Sound character and advantage of LCR phono is, low distortion and high resolution in low frequency range. This is good for spacial 3D sound images. Rich and strong mid range, stable and delicate in high range, good for Piano`s high note or JAZZ
top cymbal. LCR is supreme solution for phono stage amplifier.
---

2. What is VIDA Supreme standard configuration? Why?

Standard equips two input, MM and MC low impedance. Most of all modern MC cartridge is low impedance, under14ohm. If you need more MM or more MC, please add the option cards in open slots.
---
3. Which is better, MC step up transformer or MC Head amplifier?

This is depend on each people choice. Somebody loves transformer sound, other prefers semiconductor HEAD amp. Transformer is very low noise due passive elements without power supply. HEAD amp is wide frequency range and high sped sound, and capability of fine adjustment with cartridge impedance. Which is better.. ? No. Which you prefer ? is correct.
---
4.What is"Inverse RIAA"?

Many people has question what is this ? Inverse RIAA changes CD/DAC signal to analog cartridge signal that is RIAA frequency response. Then output through phono stage amp. Of course, frequency range , SNR, and THD are worth than CD direct to Pre-AMP. But, inverse RIAA makes sound changes to much middle rich and condense the core of music. Digital sound is changed to what we called "analog sound" through filtering process. Some people do not like digital, they loves analog very much. This card is for those analog fetish people. This is option.
---
5.How to insert the option card after purchase?

It is easy to add new option card by yourself. Power should be turned off, and open the check window on top cover. Then insert the card carefully to the connector. After that, fasten the thumbscrews to fix the card. If you mistake, do not worry, never brake the card nor VIDA Supreme. If no sound or no LED light on, card is not placed in correctly, please check the connector again from checking window.
---

6.What is benefit of external power supply unit?

Every power transformer is emitting induction noise and vibration. To eliminate those noise, power transformer should be placed far from amplifier. Phono stage amplifier is handling very small signal and x2000 gain, so very sensitive to those noise. External PSU is the best solution to make quiet amplifier.
---
7. Why MUTE button is large size?

MUTE button is useful at the cartridge up/down. No need to touch pre-amplifier`s volume knob.

---

8. Do you have any plan to develop new option cards?

Yes, we have plan to develop for ffrr curve and Colombia curve option card..
---
9. How much price of VIDA Supreme and option cards?
Please contact your local distributors. http://www.aurorasound.jp/shops.html#overseasdistributors

---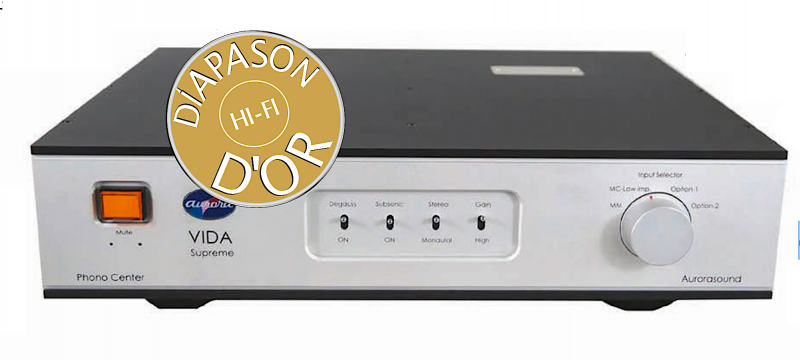 More information, please contact E-Mail 


Tel +81-45-953-6708
>> RETURN to English TOP